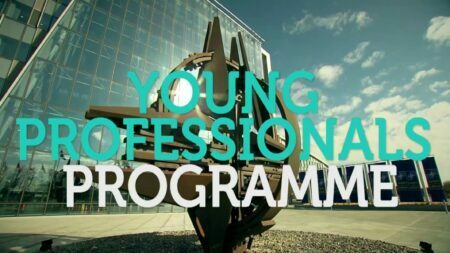 2023 NATO Young Professionals Programme
Attention all young and talented individuals hailing from NATO member countries! An invitation has been extended to you to apply for the coveted NATO Young Professionals Programme. This program is designed to attract and nurture highly skilled professionals who possess a passion for advancing their careers through entry-level positions within the esteemed NATO organization. This is your chance to showcase your talents and accelerate your professional growth with the support of a world-renowned institution. Don't miss out on this exceptional opportunity to reach new heights in your career!
Those who are selected for the Young Professionals Programme will be able to work in diverse fields across various NATO bodies, enabling them to acquire a wide range of experiences throughout the Alliance. This unique opportunity will broaden their knowledge and comprehension of NATO and will empower them to develop various competencies in multiple work areas within the organization.
SEE MORE: Al-Maktoum Living Support Scholarship 2023 at University of Dundee
The Young Professionals Programme presents a remarkable chance for accomplished individuals to gain exceptional international exposure that can enrich their personal and professional development. Along with this experience, participants of the YPP will enjoy a comprehensive employee benefits package, which includes an attractive salary, health insurance coverage, compensation for travel expenses incurred during relocation, opportunities for training and development, and a generous annual leave entitlement of 30 days.
Requirements and eligibility criteria for the 2023 NATO Young Professionals Programme:
Applicants must be aged 21+
Applicants must be a citizen of a NATO member country.
Must possess at least one year of demonstrated professional experience, including full-time employment, temporary assignments and/or internships at the time of application.
Possess a master's degree or equivalent from a recognized institution at the time of application.
Possess proficiency in one of the two official NATO languages: English or French.
SEE ALSO: MINDS Scholarship Programme 2023 in Leadership Development for African Students
Application Procedure for the 2023 NATO Young Professionals Programme (How to apply);
An interested applicant who wants to apply for the 2023 NATO Young Professionals Programme, should meticulously review the vacancy announcements that pique their interest and confirm that their educational background and professional experience align with the required criteria. While multiple applications can be submitted, it is strongly recommended that applicants only apply for positions that they are qualified for.
To initiate the application process, prospective candidates must create an account in NATO's e-recruitment system. By clicking on the "Sign In" button located in the upper right corner of the page, applicants will be redirected to a new page where they can register as a "New User." Upon filling out the necessary information, applicants can then proceed to complete their application and submit it for review.
Application Deadline: May 7th, 2023.
For more information visit the official website