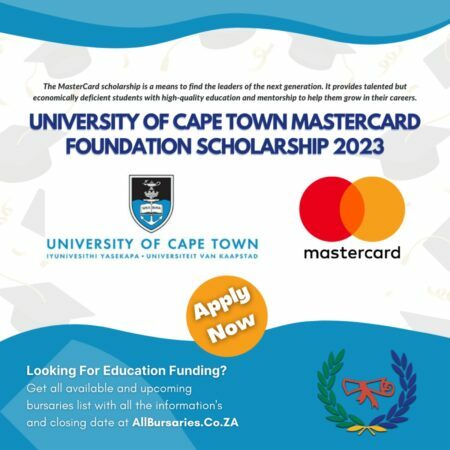 2023 University of Cape Town MasterCard Foundation Scholars Program for study in South Africa
The University of Cape Town in South Africa is glad to announce open the application submission from suitably qualified students who are desiring to pursue an undergraduate or postgraduate degree programme at the university to apply for the 2023 MasterCard Foundation Scholars Program which is a fully funded scholarship.
The MasterCard Foundation Scholars Program provides full-cost Undergraduate scholarships and Postgraduate scholarships to young Africans who are first-time degree-seeking applicants. The scholarships ensure a premium educational package that will produce graduates whose qualifications are internationally recognized and locally applicable, and whose transition into the workforce is underpinned by values of engaged citizenship and social justice. The scholarship covers the full period of study and are renewable annually subject to satisfactory performance and participation in the activities and opportunities offered by the programme. Successful candidates will be required to commit themselves to returning to their home countries and to invest their gained skills and education in their country's social and economic growth.
The University of Cape Town is a public research university in Cape Town, South Africa. The university was Established in 1829 and is considered to be the oldest university in South Africa and the oldest university in Sub-Saharan Africa in continuous operation. The university has six faculties offering various undergraduate and postgraduate degree programmes with over 30 000 students.
SEE ALSO: Meredith Legacy Scholarships for International Students at Meredith College in USA
Scholarship Summary:
Scholarship Sponsor(s): MasterCard Foundation Scholars Program
Host Institution(s): University of Cape Town in South Africa
Scholarship Worth: Fully Funded
Number of Awards: Not Mentioned
Study level: Undergraduate and Postgraduate
Nationality: Africans
Eligibility for the 2023 University of Cape Town MasterCard Foundation Scholars Program for study in South Africa:
Applicants must be from Africa.
Applicants must be academically talented, value learning and are driven to complete their education.
Applicants should be economically disadvantaged, facing significant financial barriers to completing their education.
Applicants must be committed to giving back, investing in their communities, using the skills and knowledge that they have acquired.
Applicants must must demonstrate leadership skills, committed to embracing ethical leadership and making a positive change in their home communities.
SEE ALSO: International Students Scholarships at Silesian University of Technology in Poland
Method of Application for the 2023 University of Cape Town MasterCard Foundation Scholars Program for study in South Africa:
Interested applicants are required to apply for the scholarship using the official application portal.
Application Deadline: September 25, 2022.