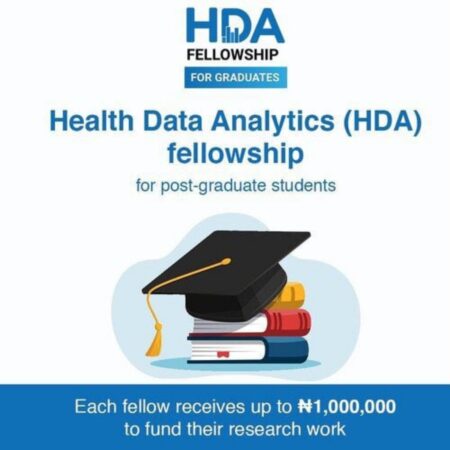 Health Data Analytics Graduate Fellowship 2023 for Nigerian Students
The Health Data Analytics Graduate Fellowship 2023 for Nigerian Students is now welcoming enthusiastic Nigerian students who are excited to join this remarkable opportunity. This program provides selected individuals with up to ₦1,000,000.00 along with additional advantages.
The utilization of data analytics can significantly enhance healthcare in various ways, including continuous health outcome monitoring, enhanced decision support, and informed policy creation. By harnessing data and analytics, policymakers and health stakeholders gain access to potent tools for valuable insights into public health, service quality, and financial aspects.
This fellowship stands to shape the upcoming phase of technological advancements and data-driven innovations for expanding the MSDAT platform. This progression aims to amplify healthcare provision and the monitoring of health systems in Nigeria. The HDA fellowship's primary objectives are to:
Foster local research expertise in health data analytics.
Bolster the growth of health data platforms, specifically focusing on MSDAT.
Enhance the utilization of the MSDAT platform.
Employ findings to guide the development of Health Information Systems (HIS) policies.
Facilitate the publication of research findings in recognized academic journals.
SEE ALSO: Hong Kong PhD Fellowships for International Students 2024
Fellowship Summary:
Fellowship Sponsor(s): Research Grants Council (RGC) of Hong Kong.
Host Institution(s):
City University of Hong Kong
Hong Kong Baptist University
Lingnan University
The Chinese University of Hong Kong
The Education University of Hong Kong
The Hong Kong Polytechnic University
The Hong Kong University of Science and Technology
The University of Hong Kong
Scholarship Worth:
Up to? 1,000,000.00 (per fellow) for postgraduate research (including research expenses e.g. equipment, data collection, etc)
Capacity building in research and health data analytics
Possible job opportunities with eHealth4everyone on completion of the fellowship
Access to a network of individuals with shared interests
Mentorship and support from the administering body. This would translate into the provision of reviews and guidance during the course of their research.
Provision of datasets on request.
Number of Awards: Several
Study Level: Postgraduate
Nationality: Nigerians
Requirements and eligibility criteria for Health Data Analytics Graduate Fellowship 2023 for Nigerian Students:
Identification: Must possess an acceptable form of identification such as an International passport, Driver's license, Voters' Card, or National Identity Number (NIN) card.
Student Status: Must be a postgraduate student at an accredited University with a valid means of identification.
Academic Qualification:
Master's Students: Minimum Bachelor's degree with at least a 3.5/5.0 CGPA (Second class upper honors).
Ph.D. Students: At least a Merit or equivalent in Masters.
Research Focus: Research goals should align with improving the Nigerian health system, focusing on areas including but not limited to:
Data Management
Visual Analytics
Data Mining
Data Integration
Health Outcomes
Health Financing
Health Workforce
Population and Demographics
Health Facility Service Availability and Readiness
Health Impact
Advanced Analytics
Open Data Advocacy
Big Data for Health
Data Demand and Use
Statistical Modelling of Health Data
Health Information System Interoperability
Artificial Intelligence
SEE ALSO: First Bank Technology Academy Graduate Programme 2023 for Nigerians
Application Procedure for Health Data Analytics Graduate Fellowship 2023 for Nigerian Students (How to apply);
To apply, follow these steps:
Visit the eHealth for Everyone Foundation website at ild3knpp.paperform.co.
Carefully complete all sections of the HDA fellowship form(s).
Attach the required documents, including:
Official transcripts from your Academic Institution
Curriculum Vitae (CV)
Admission letters
Statement of purpose (maximum 500 words)
Research proposal/summary with timelines
Letter of recommendation from Supervisor, Head of Department, or Dean
A previously published paper (if available, for added advantage)
Provide a 2-minute video explaining your research proposal and motivation.
The HDA fellowship committee will review each proposal and make a final decision. If selected, you will be notified within 8 weeks after the application deadline.
If successful, you must officially accept the offer via email within a week.
Important Notes:
The granted funds should only be used for research-related expenses, such as textbooks, equipment, publications, and approved travel for data collection.
Any costs indirectly related to the research need approval from the HDA fellowship committee.
All research results funded by HDA will be openly accessible to the eHealth for Everyone Foundation and others. There will be no copyrighting of research.
Application Deadline: August 30, 2023
For more information visit the official website