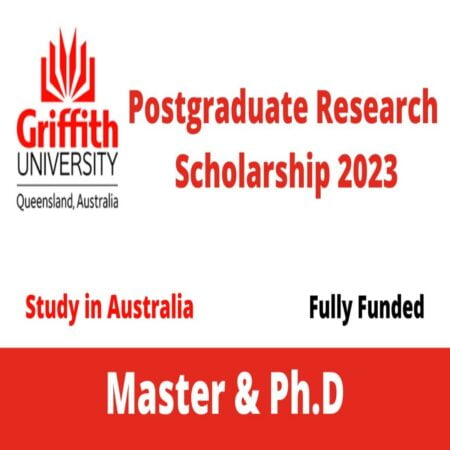 International Postgraduate Research Scholarship 2023 at Griffith University in Australia
Griffith University is currently welcoming applications for the International Postgraduate Research Scholarship 2023. This scholarship opportunity is open to exceptional and driven students who aspire to undertake a postgraduate research program at the university during the upcoming 2023/2024 academic session.
This scholarship provides coverage for tuition fees for doctoral candidates for up to three years and for research Master's candidates for up to two years. In addition, the scholarship includes Overseas Student Health Cover for the applicant and their dependents throughout the duration of the scholarship. It is essential for research candidates to have a visa that covers the entire program duration, plus an additional eight months to account for interactive thesis marking. Ph.D. candidates typically require 57 months of overseas health coverage. Recipients of Griffith University scholarships, particularly those pursuing a Ph.D., will receive coverage for the initial 42 months of their program. However, they will be responsible for arranging coverage for the remaining 15 months and providing proof of coverage upon accepting the scholarship offer.
SEE ALSO: Tiger Masters Excellence Scholarships for International Students 2023 at Aix-Marseille University in France
Griffith University is a prominent Australian higher education institution with its main campuses located in South East Queensland. It was founded in 1971 and named after Sir Samuel Walker Griffith, who was instrumental in drafting the Australian Constitution. Initially, the university started with just 451 students and offered degrees in arts, commerce, and science. Over the years, Griffith University expanded its academic offerings and became renowned for its innovative programs in fields such as health, environmental science, criminology, and international business.
Scholarship Summary:
Scholarship Sponsor(s): The International Postgraduate Research Scholarship
Host Institution(s): Griffith University, Australia
Scholarship Worth: Full Tuition Fee
Number of Awards: Several
Nationality: International Students
Requirements and eligibility criteria for International Postgraduate Research Scholarship 2023 at Griffith University in Australia:
International Students: Applicants must be international students, which means they are not citizens or permanent residents of the country where the research program is being conducted.
Research Program Enrolment: Applicants must be commencing or already enrolled in a research program that is eligible for Research Training Program (RTP) support.
Non-Receipt of Equivalent Award: Applicants should not be currently receiving any other scholarship or award from the Commonwealth Government that is specifically intended to cover research program tuition fees.
Review of GUIPRS Conditions: Applicants are advised to review the current conditions of the award, known as the GUIPRS (Graduate Research Scholarship) conditions, for detailed information regarding eligibility and requirements.
Maximum Application Limit: Applicants are allowed to apply a maximum of two times within a period of five years for consideration in the scholarship ranking and selection process.
These eligibility criteria are in place to ensure fair competition and to provide opportunities for international students pursuing research programs to receive financial support through the scholarship.
SEE ALSO: Access Bank Entry Level Recruitment and Internship Program 2023
Application Procedure for International Postgraduate Research Scholarship 2023 at Griffith University in Australia (How to apply);
Interested applicant who wants to apply for International Postgraduate Research Scholarship 2023 at Griffith University in Australia, are encouraged to complete the online application process for their desired higher degree by research program. Within the application, there is a specific section dedicated to scholarship consideration.
For those who are already enrolled as research candidates, a separate procedure must be followed when submitting a scholarship application.
Application Deadline: Ongoing
For more information visit the official website