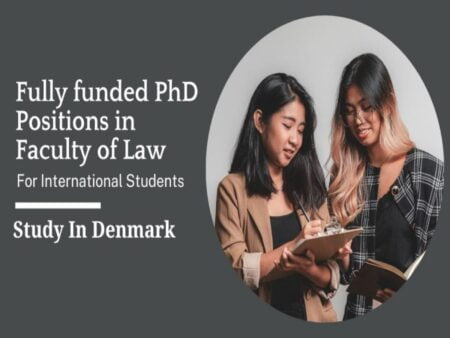 PhD Positions 2023 at University of Copenhagen in Denmark
The University of Copenhagen's Faculty of Law is currently seeking applications for fully-funded PhD positions in International Law & Military Operations (InterMil). This is a fantastic opportunity to engage in research on relevant legal issues in a stimulating academic setting. Under the guidance of experienced and highly qualified academics, you will receive valuable support throughout your research journey. If you are passionate about pursuing a PhD in law and interested in exploring the connections between international law and military operations, this is an ideal chance to delve into these significant and timely subjects.
In a unique arrangement, this specific PhD position is offered in collaboration with the Royal Danish Defence College (RDDC). The PhD candidate will have a co-supervisor from the RDDC and will have the opportunity to divide their time between both institutions. This collaboration provides a distinctive research experience, allowing the candidate to benefit from the expertise and resources of both the Faculty of Law and the RDDC. It offers a valuable opportunity to conduct research at the intersection of law and military operations while engaging with professionals in the defense sector.
Founded in 1479, the University of Copenhagen is Denmark's oldest and largest university. It has a rich history of academic excellence and has played a significant role in advancing knowledge and research. The university has evolved over time, expanding its disciplines and embracing interdisciplinary approaches. Today, it is a leading research institution with a diverse student body. Located in Copenhagen, the university's campus combines historical and modern buildings, creating an inspiring learning environment. With a commitment to intellectual freedom and critical inquiry, the University of Copenhagen continues to shape the intellectual landscape of Denmark and make global contributions.
SEE ALSO: Distinguished Scholarships Category for International Students 2023 at University of California Irvine in USA
Scholarship Summary:
Scholarship Sponsor(s): University of Copenhagen, Denmark
Host Institution(s): University of Copenhagen, Denmark
Scholarship Worth: Full Funding
Number of Awards: Several
Study Level: PhD
Nationality: Domestic & International Students
Requirements and eligibility criteria for PhD Positions 2023 at University of Copenhagen in Denmark:
Degree Requirement: Hold a degree equivalent to the Danish Master of Laws degree, which is a second cycle 120 ECTS degree. Applicants with a non-Danish Master's degree will have their degree assessed by the Ministry of Higher Education and Science.
Minimum Grade Average: Achieve a minimum overall grade average of 8.2 or above at the Master's level according to the Danish grading scale.
Application Timing: Applicants can submit their application before completing their Master's degree, but must obtain the degree before the start date of the program.
Research Aptitude: Demonstrate research aptitude through the assessment of their final thesis, publications, or academic recommendations. This ensures the ability to undertake the demanding task of writing a PhD thesis.
Language Skills: Possess excellent language skills in English and strong communication abilities. Applicants should be capable of teaching at an academic level in Danish or English and participate in PhD courses conducted in English.
SEE ALSO: African Students Scholarship 2023 in International Social Work at University of Gävle
Application Procedure for PhD Positions 2023 at the University of Copenhagen in Denmark (How to apply);
Interested applicant who wants to apply for PhD Positions 2023 at the University of Copenhagen in Denmark, must complete the online application form. After the application deadline, the Associate Dean of Research will pre-select candidates based on the recommendation of the Selection Committee. The pre-selected applicants will proceed to the assessment stage.
Applicants are advised to prepare the following documents before starting the online application (detailed guidelines can be found on the official application page):
Research project proposal
Curriculum vitae (maximum 2 pages)
Diplomas and transcripts
Grading scale
Letter of motivation
Documentation of English proficiency
All application materials should be submitted electronically in English. Make sure to follow the guidelines and provide the necessary documents to complete your application.
Application Deadline: Not specific
For more information visit the official website