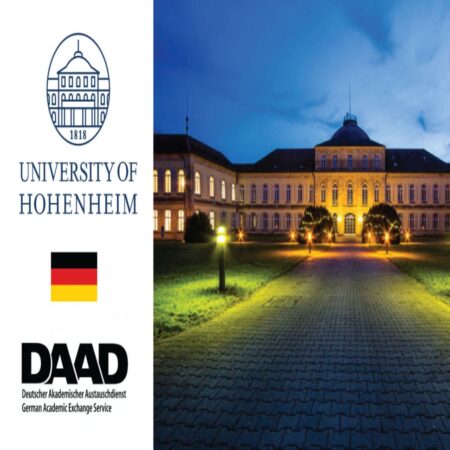 DAAD AgEcon Scholarships 2023 at University Of Hohenheim
The
University of Hohenheim
is offering fully funded DAAD AgEcon Scholarships for 2023. These scholarships are part of the "Development-Related Postgraduate Courses" (EPOS) initiative by the German Academic Exchange Service (DAAD). They aim to support exceptional individuals from developing countries who have strong academic and professional backgrounds.
Recipients of this Postgraduate scholarship usually come with previous work experience in a public, government, or private sector in a developing country. They have actively contributed to planning and executing projects related to development policies in areas like technology, economics, and social impact.
The University of Hohenheim, founded in 1818, initially specialized in agriculture and forestry education. Over time, it broadened its curriculum to include natural sciences, economics, and engineering. It underwent name changes, eventually becoming a full-fledged university in 1918. Despite facing challenges during World Wars, the university modernized and expanded its programs, particularly in biology, chemistry, and social sciences. Today, it is known for its focus on agricultural and life sciences, natural sciences, and economics, contributing to research and education in areas such as food security and sustainability.
SEE ALSO: Tarbell Fellowship for Early-Career Journalists 2023
Scholarship Summary:
Scholarship Sponsor(s): German Academic Exchange Service (DAAD)
Host Institution(s): University of Hohenheim
Scholarship Worth: Fully Funded
Number of Awards: Several
Study Level: Postgraduate
Nationality: Students from Developing countries
Requirements and eligibility criteria for DAAD AgEcon Scholarships 2023 at University Of Hohenheim:
Citizenship: Must be citizens of a developing country.
Professional Experience: Must have a minimum of 2 years of professional experience post-bachelor's, before the application date. Note that academic employment, such as teaching and research at a university or research institute, is not considered.
Relevant Work Experience: Should have relevant work experience, as it's crucial for this initiative. Only in highly exceptional cases can other experiences be accepted.
Academic Degrees: Academic degrees should be obtained within the last 6 years.
Development Commitment: Must demonstrate a commitment to development-related goals and intentions.
Residency: Must not have lived in Germany for more than 15 months by the application deadline.
SEE ALSO: IBM Masters Fellowship Program 2024
Application Procedure for DAAD AgEcon Scholarships 2023 at University Of Hohenheim (How to apply);
If you're interested in applying for the DAAD EPOS scholarship, follow these steps:
Click on the provided link to access the application.
Send your DAAD EPOS scholarship application documents to agecon@uni-hohenheim.de.
Required Documents:
Checklist of all necessary DAAD application documents, with your physical signature and date.
DAAD Application Form, with your physical signature and date.
An updated CV (Europass), with your physical signature and date.
A Motivation Letter (maximum 2 pages), with your physical signature and date.
Application Deadline: December 15, 2023.
For more information visit the official website