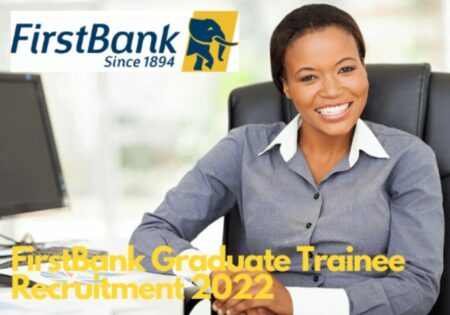 2022 First Bank of Nigeria Graduate Trainee Recruitment
First Bank of Nigeria Limited (FirstBank) is currently taking applications from degree and HND holders with the necessary qualifications for its 2022 graduate trainee recruitment.
As a cornerstone of career development, FirstBank fosters a culture of continuous learning that is tailored to the needs and goals of the workforce as well as the organization as a whole.
Through their FirstAcademy and learning centers across the nation, they have made investments in e-learning, mobile learning, classrooms, real and virtual libraries, and other resources to give all of their employees the chance to get ready for roles that will be advantageous to both them and the company in the future.
SEE ALSO: New International Students Scholarship 2022 at University of Waikato in New Zealand
Requirements for the 2022 First Bank of Nigeria Graduate Trainee Recruitment:
Applicants must have HND (Upper Credit) or Second Class Honors (Lower Division) in any discipline.
Applicants must be maximum age of 27 as of June 30, 2022.
Applicants must have a minimum of 5 credits on the Senior Secondary Certificate Exam, including English and Mathematics (SSCE).
Applicants must have completed NYSC at the time of application.
Also, candidates should also exhibit the following qualities:
Strong commitment to excellence.
Excellent problem-solving abilities, inventiveness, and a strong desire to learn.
To succeed in a dynamic, quick-paced business environment.
Outstanding interpersonal and teamwork abilities.
powerful analytical abilities.
Strong communication skills in both writing and speaking.
Additional Instructions for the 2022 First Bank of Nigeria Graduate Trainee Recruitment:
Please take note of the 12-digit Application Reference Number (ARN) that would be generated upon successful submission of your application, as it would be required for subsequent access to your information page on the application portal.
Ensure to keep the confirmation code as received in your mailbox.
Do note forget that you are only allowed to submit one application for the Graduate Trainee Programme. Duplicate entries are not allowed and will not be processed.
Print out the acknowledgment slip upon final submission of the online application.
SEE ALSO: NRRP International Scholarships 2022 at University of Bologna in Italy
Application Deadline: August 5, 2022