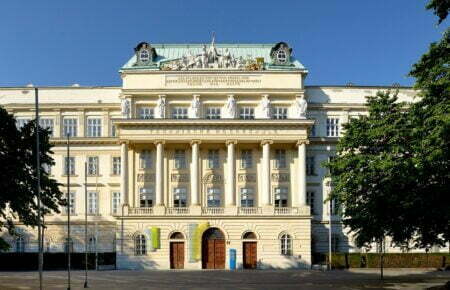 2022 Helmut Veith Stipend At TU Wien in Austria
TU Wien in Austria is pleased to announce open the application submission from suitably qualified international students who are looking to pursue a master's degree programme at the university to apply for the 2022 Helmut Veith Stipend worth about EUR 6000 for the 2022/2023 academic session.
The Helmut Veith Stipend is awarded annually to motivated female students in the field of computer science who are looking to pursue one of the programs in Computer Science at the university taught in English in summer semester 2022. The Master's scholarship offers an award worth EUR 6000 annually for a duration of two years and waiver of all tuition fees at the university.
TU Wien also known as the Vienna University of Technology is a public university in Austria, established on November 6, 1815. The university comprises of eight faculties with teaching and research focused on engineering, computer science, and natural sciences. The university finds high international and domestic recognition in teaching as well as in research, and it is a highly esteemed partner of innovation-oriented enterprises. The university has over 28,00 students who are pursuing one degree programme of another and that is made easy as a result of the numerous scholarship awards provided by the university on a yearly basis.
SEE ALSO: Commonwealth Masters Scholarships 2023 for African Students at Bangor University in UK
Scholarship Summary:
Scholarship Sponsor(s): Helmut Veith Stipend
Host Institution(s): TU Wien in Austria
Scholarship Worth: Worth about EUR 6000
Number of Award: Not Mentioned
Study level: Master's
Nationality: International
Eligible Field of Study:
Eligibility for the 2022 Helmut Veith Stipend At TU Wien in Austria:
Applicants must be eligible for admission to one of the above master's programs in computer science at the university that are taught in English.
Applicants need to demonstrate that they have a good level of written and spoken English.
Applicants must be Female Students
Method of Application for the 2022 Helmut Veith Stipend At TU Wien in Austria:
Interested applicants must submit electronically the following documents below to ta.sc-cigol@retsam with a subject "Application" as a single PDF document. The name of the PDF file needs to be "document.pdf"
Cover Letter, describing the type of funding the student is applying for, and all other aspects the student deems relevant for the application
Curriculum Vitae
Motivation Letter, describing the reasons why the student wants to study in the program Logic and Computation, why funding is necessary, and with which groups of the faculty the student would be interested to work with during their master's thesis and why.
Reports on university examinations (transcripts)
Diplomas and/or certificates (first degree, bachelor degree, or higher). If the final academic certificate is not yet available at the time of the application deadline, a preliminary certificate indicating the type of degree and the expected graduation date signed and stamped by the degree-awarding university must be provided.
Contact details of two referees (for letters of recommendation)
English language certificate (TOEFL or similar)
Copy of passport
SEE ALSO: 2023 Environmental Justice Fellowship for African Professionals
Application Deadline: November 30, 2022.