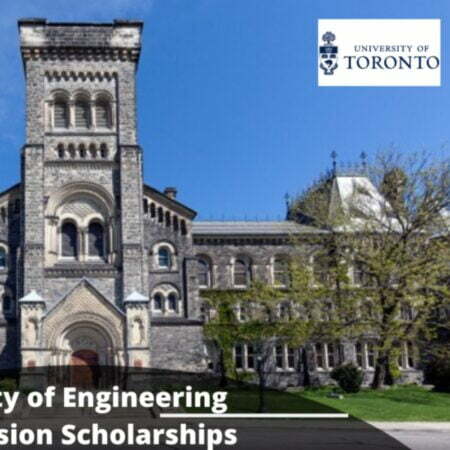 Engineering Admission Scholarships 2023 at University of Toronto
University of Toronto are pleased to invite and also welcome highly intelligent international students who wish to further their academic pursuit in Canada to take a chance on their ongoing Engineering Admission Scholarships for the 2023-2024 academic session.
This scholarship offer is open for Undergraduate levels and have been hinted as one of the most competitive study offer made available to international student by the institution. The award for the program varies as some are partly funded while some are fully funded, and aimed at luring highly intellectual personal who suffer financial difficulty into the school.
The University of Toronto is located at Ontario, Canada. The institution since its establishment has numerous achievements and has also produced outstanding Scholars all over the world. The scholarship admission scheme it offers has also aided so many students or candidates to reach the peak of their careers despite any form of financial challenges.
SEE ALSO: Berkeley Law School Scholarships and Fellowships 2023-2024
Scholarship Summary:
Scholarship Sponsor(s): University of Toronto, Canada
Scholarship Type: Full/Partially Funded Scholarships
Host Institution(s): University of Toronto, Canada
Scholarship Worth: Varies
Number of Awards:Several
Study Level: Undergraduate
Nationality: International Students
Requirements and eligibility criteria for the University of Toronto Engineering Admission Scholarships 2023:
Interested Applicants are considered for scholarships on the basis of academic excellence and extracurricular involvement as demonstrated in the Online Student Profile
Available U of T Engineering Admission Scholarships for International Students
Scholarship Value Open to International students
Faculty of Applied Science & Engineering Admission Scholarships (various awards) Variable, to a maximum of $7,500 Yes (to a maximum of $5,000)
U of T Engineering International Scholarships (40 awards) Variable, to a maximum of $25,000 x 4 years (renewable) Yes
Stanley Timoshek Scholarship in Engineering Variable Yes
SEE ALSO: Application-Required Entrance International Scholarships 2023 at University of Winnipeg in Canada
Application Procedures for the 2023/2024 Engineering Admission Scholarships (How to Apply):
Interested Applicants who meet the above requirements and eligibility criteria for this opportunity are expected to wait for an automatic consideration after they have applied to the U of T Engineering. See how to apply to University of Toronto.
Application Deadline: Varies
For more information about this opportunity, Visit the Official Website