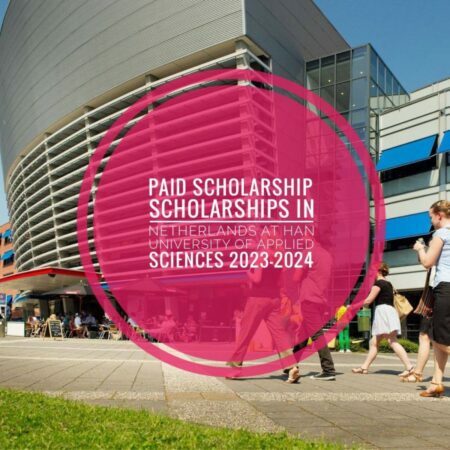 HAN University International Scholarships 2023 in Netherlands
The HAN University Netherlands is willing to accept interested students who wish to further their studies in their ongoing scholarship scheme for 2023-2024. The HAN University is a renowned one known for it's high level of academic excellence. The offer is open to international students.
The scholarship is a partially funded one as there is tuition fee payment. The opportunity is for both students at undergraduate and masters level who wish to continue their academic pursuit in the coming academic session.
The scholarship is paid in 2 terms: in March and September. If you are starting your degree in February, Your scholarship is paid in February each year. Keep in mind that tuition fees are due in the fall semester. You can only receive the payment if: you are enrolled as a HAN student and you have a Dutch bank account in your name.
SEE ALSO: 2023 International Masters Scholarships at University of Twente in Netherlands
Scholarship Summary:
Scholarship Sponsor(s): HAN University, Netherlands
Scholarship Type: Tuition Waiver Scholarship
Host Institution(s): HAN University, Netherlands
Scholarship Worth: €12,500
Number of Awards: Several
Study Level: Undergraduate and Masters
Nationality: International Students
Requirements and Eligibility Criteria for the HAN University International Scholarships 2023/2024:
Interested Applicants must be a national of a country outside the EU/EEA
Interested Applicants must have not previously been enrolled in a degree at a university or university of applied sciences in the Netherlands
Interested Applicants must have been accepted into a full-time English-taught degree program at HAN
Interested Applicants must have an IELTS score of at least 6.5, a TOEFL iBT score of at least 90 or a Cambridge Certificate (CAE or CPE)
SEE ALSO: 2023 High Potential Scholarship at Maastricht University in Netherlands
Application procedure (How to Apply):
Interested applicants who meet the above requirements and eligibility criteria for this opportunity should do so by following the steps below to complete their application on or before the deadline.
Step 1 Complete your enrolment on the official website.
Step 2 Prepare your application
Step 3 Submit your application
Step 4 Receive notification
Step 5 Accept the scholarship
Application Deadline: January 21, 2023
For more information about this opportunity, Visit the Official Website.