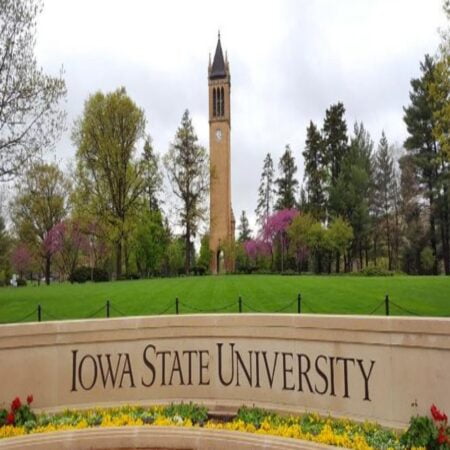 International Merit Scholarships 2024 at Iowa State University
Iowa State University is dedicated to providing international students with a chance to receive a top-notch education. They are offering merit scholarships to eligible international freshmen. Applications are now open for the Iowa State University International Merit Scholarships for 2024. Don't miss out on this opportunity!
Iowa State University offers a fantastic academic and research environment. Students engage in learning communities and participate in various undergraduate research, internships, and study abroad programs. They learn from exceptional scholars addressing global challenges. If you're interested, we encourage you to apply for this scholarship opportunity and be part of this dynamic educational experience.
Iowa State University, founded in 1858, is a prominent public research university with a strong commitment to accessible education and research excellence. It was one of the first land-grant institutions, offering degrees to both men and women. Over the years, it diversified its academic programs, becoming known for fields such as agriculture, engineering, and veterinary medicine. The university has a rich history of innovation, including contributions to agricultural research and the development of the first electronic digital computer. With a growing campus and notable alumni, Iowa State University continues to be a leading institution in higher education today.
SEE ALSO: National Treasury Graduate Internship in South Africa 2024
Scholarship Summary:
Scholarship Sponsor(s): Iowa State University
Host Institution(s): Iowa State University, USA
Scholarship Worth: up to $10,000 per year (renewable)
Number of Awards:
Award of Achievement Up to $40,000 ($5,000/yr–$10,000/yr)
Award of Distinction Up to $16,000 ($2,000/yr–$4,000/yr)
Study Level: Undergraduate
Nationality: International Students
Requirements and eligibility criteria for International Merit Scholarships 2024 at Iowa State University:
Incoming international freshmen with an offer of admission for full-time study at the university.
Submission of qualifying SAT or ACT scores.
Completion of the Iowa State University OneApp, including the General OneApp application and the International Student Admissions Scholarship application.
Demonstration of strong academic and leadership abilities.
SEE ALSO: Telkom Internship and Leadership Program 2024
Application Procedure for International Merit Scholarships 2024 at Iowa State University (How to apply);
To apply for the scholarship, first, apply for admission to a full-time undergraduate program at the University. Afterward, fill out the international student admissions scholarship application form.
Application Deadline: Varies
For more information visit the official website