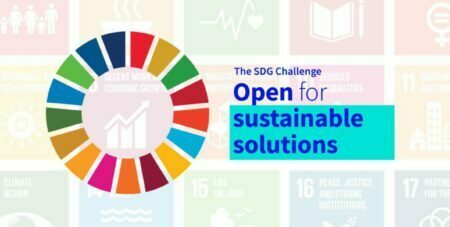 Irish Aid SDG Challenge 2022 for Sustainable Solutions
Applications are invited for the Irish Aid SDG Challenge 2022 for Sustainable Solutions that contribute to the interconnected areas of SDG 13: Climate Action, SDG 14: Life Below Water and SDG 15: Life on Land. The SDG Challenge 2022 is an opportunity for research teams to develop innovative solutions relating to challenges associated with climate, biodiversity and the environment. Under this call, in partnership with Irish Aid.
The UN Sustainable Development Goals (SDGs) are a call to action for all countries, in partnership, to achieve a better and more sustainable future for all. Achieving the SDGs lies at the heart of Ireland's international development policy, A Better World, as well as being part of SFI's strategy, Shaping our Future, to deliver tangible benefits for society. With these common goals, Irish Aid (Department of Foreign Affairs) entered a partnership with SFI in 2021 to establish the SDG Challenge.
SEE ALSO: The United Nations – Nippon Foundation Fellowship 2023 for Government officials and mid-level professionals
Objectives of the Irish Aid SDG Challenge 2022 for Sustainable Solutions:
To provide opportunities for Ireland-based researchers to form diverse teams to identify key development challenges where technology can deliver trans-formative impact with a focus on southern partner countries.
To enable the development of collaborations between researchers in Ireland and researchers in partner countries where Irish Aid works.
To support the development, deployment and demonstration of sustainable technologies responding to the identified challenges.
To promote sustainability and the important role that STEM plays in addressing global sustainability issues and the SDGs.
Eligibility for the Irish Aid SDG Challenge 2022 for Sustainable Solutions:
The Challenge is aimed to support highly motivated, trans-disciplinary teams committed to developing trans-formative, sustainable solutions that will contribute to addressing development challenges under the UN SDGs in Irish Aid's partner countries. It is expected that teams will encompass a range of technical and non-technical skills to address barriers associated with challenge definition and solution deployment, and that applicants will represent collaborative and equitable partnerships between researchers in Ireland and the partner country.
Teams must include expertise in the STEM research area underpinning the proposed solution, but should also include knowledge or experience in areas such as, for example, international development, development economics, or behavioral or social sciences, in order to inform the adoption and impact of novel interventions.
Eligible partner countries are: South Africa, Ethiopia, Malawi, Uganda, Vietnam, Tanzania, Zambia, Mozambique and Sierra Leone.
SEE ALSO: 2023 ENI AWARD for researchers and scientists across Africa
Application Deadline: September 22, 2022.