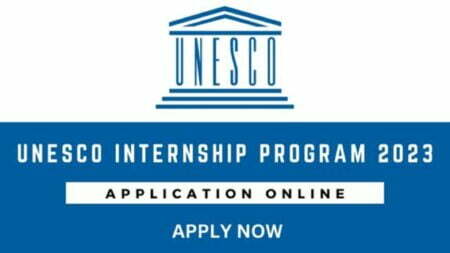 The UNESCO Internship Programme 2023 for students and recent graduates
UNESCO is pleased to welcome suitably qualified students and recent graduates who desire to learn about its mandate, programmes and processes as well as enhance their academic and technical knowledge through practical assignments to submit application for The UNESCO Internship Programme 2023. The internship is one month, and the maximum duration is six months and applicants will be entitled to 2 to 5 days of leave per month during their internship.
UNESCO is a specialized agency of the United Nations (UN) aimed at promoting world peace and security through international cooperation in education, arts, sciences and culture with over 193 member states and 12 associate members, as well as partners in the non-governmental, intergovernmental and private sectors. The agency was formed on 16 November 1945 and its mission shaped by the second world war which is to advance peace, sustainable development and human rights by facilitating collaboration and dialogue among nations. UNESCO's five major programme areas are: education, natural sciences, social/human sciences, culture and communication/information.
SEE ALSO: 2023 Mohamed Bin Zayed University of Artificial Intelligence (MBZUAI) Scholarships at Dubai, UAE
Eligibility for The UNESCO Internship Programme 2023 for students and recent graduates:
Applicants must be 20 years and above.
Applicants must currently be enrolled in a graduate programme (Master's degree, PhD, or equivalent, second university degree or higher) or,
Applicants must have recently graduated with a Master's degree or PhD (or second degree as defined above), 12 months before the start of the internship.
Applicants should have an excellent command, both written and spoken, of English or French.
Applicants must have an excellent knowledge of computer systems and office-related software.
Applicants should be able to work efficiently in a team and adapt to an international working environment.
Applicants should possess strong interpersonal and communication skills.
Applicants should be responsible for obtaining any necessary visas.
Applicants must arrange and finance their travel to the location where they will undertake their internship.
Applicants must show proof of a comprehensive health insurance valid in the country where they will undertake their internship and for the entire period of the internship. UNESCO will only provide limited insurance coverage worth USD 30,000 against risk of illness, disability, or death during the internship period.
Applicants must provide a medical certificate issued by a qualified medical practitioner indicating they are fit to work.
Applicants must provide an ID/Certificate of Enrollment/Diploma if you have just recently graduated before the start of the internship programme.
Method of Application for The UNESCO Internship Programme 2023 for students and recent graduates:
Interested applicants will have one hour to finish their application process and so they are advised to have their motivation letter and resume at hand. Applicants are allowed to submit only one application and selected applicants will be directly contacted by the manager. If you do not receive any update within six months, it means that your application has not been successful.
SEE ALSO: Dalio Philanthropies Scholarships 2023 at University of Queensland in Australia
Application Deadline: Not Specific.