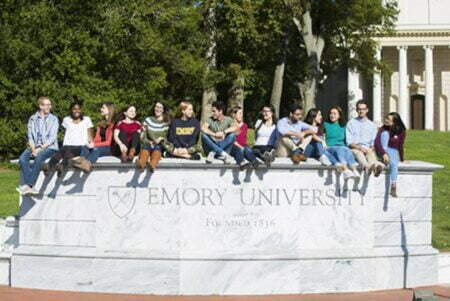 International Scholarships 2023 at Emory University in USA
Emory University in USA is pleased to announce open the application submission from suitably qualified international students who are looking to pursue an undergraduate degree programme at the university to apply for 2023 International Scholarships which is a partial or fully funded award.
The International Scholarships is an initiative of the university that offers partial to full merit-based Undergraduate scholarships as part of the University's Scholar Programs. Scholar programs are more than just merit scholarships. They empower students through resources and support to reach their full potential and make an impact on the university, Atlanta, and the world at large.
Emory University is a private research university in Atlanta, Georgia. The university was established in 1836 and is regarded to be the second oldest private institution of higher education in Georgia. The university has nine academic divisions that offers several programmes and seven major hospitals as it is the largest healthcare system in the state of Georgia. The university is not left out when it comes to offering several scholarship award to its students who are in need of financial support to perfect their academic career.
SEE ALSO: Sisters Angèle-Marie Littlejohn and Bibiane Leclercq Scholarships 2023 for African Students in Ireland
Scholarship Summary:
Scholarship Sponsor(s): International Scholarships
Host Institution(s): Emory University in USA
Scholarship Worth: Partial or Fully Funded
Number of Award: About 175 to 200
Duration of Award: 4 years
Study level: Undergraduate
Nationality: International
Eligibility for the International Scholarships 2023 at Emory University in USA:
Applicants must be an international student.
Applicants must be grounded individuals who are looking to grow and build on these strong qualities and give out their talents to the Emory community and the world as a whole.
Applicants must be proficient in English Language and provide proof of it.
Applicants must posses a good academic record.
Method of Application for the International Scholarships 2023 at Emory University in USA:
Interested applicants should follow the steps below:
Applicants must select one of the three admission decision plans (Early Decision I, Early Decision II, or Regular Decision) and submit all required application materials before the application deadline.
Applicants must also answer "yes" to the question on their application that says, "Do you wish to be considered for merit scholarships?"
SEE ALSO: 2023 Yenching Academy Fellowships for International Students in China
Application Deadline: November 15, 2022.