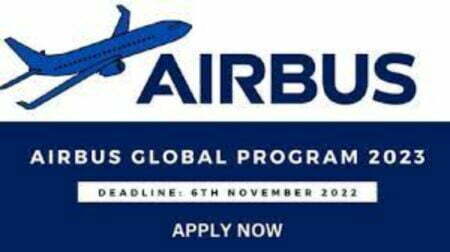 2023 Airbus Global Graduate Programme for university graduates worldwide
University graduates from all across the globe are invited to submit application for the 2023 Airbus Global Graduate Programme which aims to help them perfect their career in the aviation sector by joining on a development pathway that will assist their growth into specifically skilled positions, that are recognized to be critical and within strategically important areas of Airbus.
The Airbus Global Graduate Programme is an annual program which seeks university graduates from all across the globe to join the organisation with divisions within a multitude of functions in Engineering, Finance, Marketing, Customer Support, Procurement and Cyber. Airbus is looking for applicants with the aspiration, enthusiasm and the talent to help them move forward and to change the world and deliver their vision to pioneer sustainable aerospace for a safe and united world.
Airbus is an European multinational aerospace corporation founded on December 18, 1970. Airbus designs, manufactures and sells civil and military aerospace products worldwide and manufactures aircraft in Europe and various countries outside Europe. The company has three divisions: Commercial Aircraft (Airbus S.A.S.), Defence and Space, and Helicopters, the third being the largest in its industry in terms of revenues and turbine helicopter deliveries. Airbus is considered to be the world's largest airliner manufacturer with over 126,495 employees committed to delivering the best aerospace services.
SEE ALSO: Sterling Apprenticeship Program (SAP) for Nigerian Secondary School leavers and graduates
Eligibility for the 2023 Airbus Global Graduate Programme for university graduates worldwide:
Applicants must have a degree certificate or its equivalent within a relevant field of study.
Applicants must have maximum three years work experience in relevant field.
Applicants must have strong verbal and written communication in English language.
Applicants must be willing to work in a collaborative team environment aimed at driving future innovation.
Applicants must be self-aware and have a strong desire to be in the driving seat of their development.
Benefits of the 2023 Airbus Global Graduate Programme for university graduates worldwide:
Selected applicants will have the opportunity to be a part of a global community that will come together every year for a graduate conference where they get to meet their peers and learn from the best.
By the end of the programme, participants will be ready to progress into the position, having already demonstrated their value to the organisation.
Selected applicants will get to know about the Airbus business, the opportunities, challenges and needs, and also learn more about what makes them great.
SEE ALSO: Atlas Postdoctoral Fellowship 2023 for East African Researchers
Application Deadline: November 6, 2022.