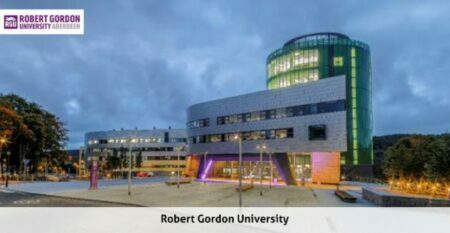 International Student Scholarships 2022 at Robert Gordon University in UK
Robert Gordon University in UK is pleased to announce open the application submission from suitably qualified international students who are looking to pursue a postgraduate degree program at the university to apply for the 2022 International Student Scholarships worth about £4,000.
The International Student Scholarships is offering a £4,000 Postgraduate scholarship opportunity that will be applied to cover students course tuition fees at the 2022/2023 academic year.
Robert Gordon University is a public university in the city of Aberdeen, UK. The university was founded in 1992 and continues to awards degrees in a wide range of disciplines. The university is dedicated to providing an accessible student environment for all students, including those who have been looked after at home, in residential care, foster care, kinship care, or estranged. It has A wide range of self-assessments and interactive quizzes designed to help students better understand their strengths, motivations, learning styles, and temperament.
SEE ALSO: 2023 Academic Excellence Entrance Scholarship at St. Lawrence College in Canada
Scholarship Summary:
Scholarship Sponsor(s): International Student Scholarships
Host Institution(s): Robert Gordon University in UK
Scholarship Worth: About £4,000
Number of Awards: Not Mentioned
Study level: Postgraduate
Nationality: Azerbaijan, Bahrain, Bangladesh, Botswana, Brunei, Cambodia, Cameroon, Canada, China, Egypt, Ghana, Hong Kong, India, Indonesia, Iran, Jordan, Kazakhstan, Kenya, Kuwait, Malaysia, Mexico, Namibia, Nepal, Nigeria, Norway, Oman, Pakistan, Qatar, Russia, Rwanda, Saudi Arabia, Singapore, Sierra Leone, South Africa, South Korea, Sri Lanka, Taiwan, Tanzania, Thailand, Turkey, Uganda, Ukraine, United Arab Emirates, USA, Vietnam, Zimbabwe.
Eligibility for the International Student Scholarships 2022 at Robert Gordon University in UK:
Applicants must have an offer to study one of the eligible courses at the university.
Applicants must meet all of the conditions of their offer before the deadline.
Applicants must bee a self-funded, international fee-paying student
Applicants must submit an application form before the application deadline.
Applicants must be willing to be an ambassador to future students of the scholarship.
Method of Application for the International Student Scholarships 2022 at Robert Gordon University in UK:
Interested applicants will require applying for an applicable course. After that, applicants must complete the online application form for the scholarship programme.
SEE ALSO: Women in Business Leadership Scholarships 2023 at UBC Sauder School of Business in Canada
Application Deadline: October 30, 2022.