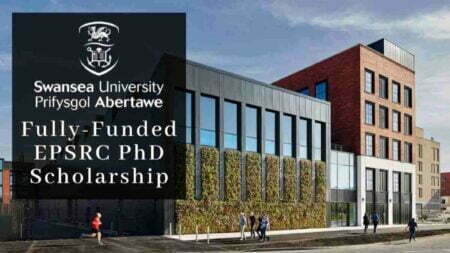 EPSRC International Scholarships 2022 at Swansea University in UK
Swansea University in UK is pleased to make open an invitations of application to suitably qualified students who wish to further their education with the help of a full funded EPSRC International Scholarships 2022 for the 2022/2023 academic year.
The EPSRC International Scholarships is full funded PhD scholarship to Internationale students who wish to further their academic career in UK. The scholarship award covers full cost of tuition fee, yearly stipend of about £16,062 for the duration of three years. The aim of this scholarship programme is to advance students understanding of fundamental computational problems concerning the long-term behavior of linear dynamical systems. Applicants must meet the eligibility stated before being considered for the scholarship award.
Swansea University is a public research university located in Swansea, Wales, United Kingdom that has been making a difference since its formation in 1920 with 8 colleges spread across its two campuses which are located on the coastline of Swansea Bay. The University community thrives on exploration and discovery, and offers the right balance of excellent teaching and research, matched by an enviable quality of life. It is considered to be the third largest university in Wales in terms of number of students and its scholarship programmes every year.
SEE ALSO: Jim Duncan Scholarships 2022 at University of Aberdeen in UK
SCHOLARSHIP SUMMARY:
Scholarship Sponsor(s): EPSRC International Scholarships
Eligible field of study: PhD degree in Robust Reach-ability Problems for Linear Dynamical Systems.
Host Institution(s): Swansea University in UK
Scholarship Worth: Fully-funded
Number of Awards: Not Mentioned
Study level: PhD degree
Nationality: International students
Eligibility for the EPSRC International Scholarships 2022 at Swansea University in UK:
Interested applicants must be an international students.
Interested applicants must hold a bachelor degree certificate with a 2.1 level in Computer Science, Mathematics or its related discipline and an appropriate master's degree with at least a total grade at 'Merit' or Non-UK equivalent as defined by Swansea University.
Applicants must posses a minimum of IELTS 6.5 with a total of 5.5 plus in each component to be met by point of application.
SEE ALSO: Part fee Scholarships 2022 At University of Westminster in UK
Method of Application for the EPSRC International Scholarships 2022 at Swansea University in UK:
Interested applicants who wish to apply for the scholarship award must take admission in the PhD degree coursework at Swansea University and afterwards, submit the complete research scholarship online application form
Application Deadline: July 29, 2022.