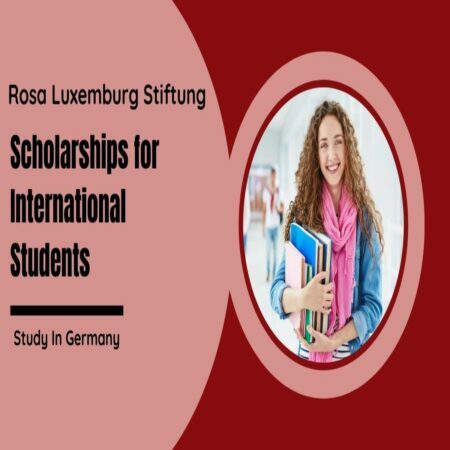 Rosa Luxemburg Foundation Scholarship 2023 to Study in Germany
The Rosa Luxemburg Foundation Scholarship 2023 is open to both local and international students aiming to pursue studies in Germany. This program offers grants for undergraduate, master's (MA), and doctoral students, providing financial assistance to exceptionally qualified individuals who wish to study at different German universities.
The Rosa Luxemburg Stiftung Scholarship Department warmly welcomes applications from students in scientific and technical domains, including graduates of technical colleges. They also promote diversity by offering Undergraduate and Postgraduate scholarships to foreign students studying or researching in Germany. This commitment emphasizes their aim of nurturing a vibrant and global academic environment.
The Rosa-Luxemburg-Stiftung Foundation, established in 1990 in Berlin, Germany, is named after the renowned Marxist theorist and activist Rosa Luxemburg. It operates as a non-profit organization aligned with left-wing values and aims to promote social justice, democracy, and human rights. Through scholarships, grants, seminars, and publications, the foundation supports research, education, and political projects. It is a significant player in progressive political and social movements both in Germany and internationally.
SEE ALSO: European Union Internships 2024 for Recent Graduates
Scholarship Summary:
Scholarship Sponsor(s): Rosa-Luxemburg-Stiftung Foundation
Host Institution(s): Higher Institutions in Germany
Scholarship Worth: Fully Funded
Number of Awards: Several
Study Level: Undergraduate & Postgraduate
Nationality: Domestic & International Students
Requirements and eligibility criteria for Rosa Luxemburg Foundation Scholarship 2023 to Study in Germany:
Strong Academic Record: Showcase exceptional academic performance at school and/or university.
Political and Social Engagement: Demonstrate alignment with the goals of the Rosa-Luxemburg-Stiftung through political and social involvement.
German Language Proficiency: Possess proficiency in German at B2 level or higher.
Leadership Skills: Exhibit strong leadership qualities and a commitment to following the Rosa Luxemburg Scholars' guidelines.
Admission to German University: Secure admission for full-time studies at a German university to qualify for the scholarship.
SEE ALSO: Eric Bleumink Fund Scholarships 2024
Application Procedure for Rosa Luxemburg Foundation Scholarship 2023 to Study in Germany (How to apply);
If you're interested, we urge you to apply for the Rosa Luxemburg Foundation Scholarship 2023 by using the online application portal before the designated deadline. It's essential to provide all required information as part of the application process.
Application Deadline: October 1, 2023.
For more information visit the official website