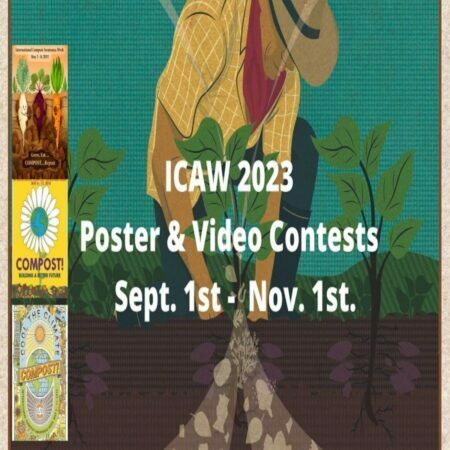 The International Compost Awareness Week (ICAW) 2023 International Poster Contest
Every year, the International Compost Awareness Week Committee holds a poster contest to select a new design for the annual poster contest. There is a new theme for ICAW, which is highlighted on the poster as well as the dates for ICAW, which will be May 7 to 13, 2023. The contest is open to applicants all over the world from 14 years old. The 2023 International Compost Awareness Week (ICAW) theme is truly a collaborative and international effort. This year, the organizers teamed up with the International Compost Alliance (ICA) to select: For Healthier Soil, Healthier Food Compost! The theme was chosen based on a serious world-wide issue that every nation, unfortunately, experiences: hunger. One of the initiatives of the United Nations Sustainable Development Goals (SDG), is Zero Hunger: End hunger, achieve food security and improved nutrition, and promote sustainable agriculture. As part of the ICAW committee's global discussion with their international partners around the world, they spoke the same language, and all wanted to promote a unified theme aligning a topic important to each country while emphasizing their work with compost.
The chosen 2023 theme best reflects the goal of focusing on how compost can have a role in helping feed the world, by making soil healthier which produces healthier food. How does compost help? By recycling organics into compost and using it on their farmlands they create healthy soils that produce healthier food and higher yields. It also reduces the need for fertilizer and pesticides, improves water quality and conserves water, as well as stores carbon in soil – helping to reduce climate change.
SEE ALSO: 2023 Khaled bin Sultan Living Oceans Foundation Science without Borders® Challenge International Art Competition
Eligibility for The International Compost Awareness Week (ICAW) 2023 International Poster Contest:
Only one entry per person
Size is 12" wide X 18" vertical (this is in inches)
Resolution is 300 dpi in jpg format
Poster contains the theme, For Healthier Soil, Healthier Food…Compost!
Poster contains the words International Compost Awareness Week
Poster contains May 7 to 13, 2023
Applicants should ensure not to add additional words to their poster. Only the theme and International Compost Awareness Week and May 7 to 13, 2023 are allowed. Any changes to those words or additions will automatically eliminate applicants entry.
The competition will be judged based on the following criteria below: (40 points maximum)
Marketability of poster to multiple audiences – 10 points.
Creative and original artwork and idea – 10 points.
Attractiveness in terms of design and neatness of layout – 10 points.
Overall Impact, all graphics are related to the topic and make it easier to understand the poster theme – 10 points.
SEE ALSO: The SDG Innovation Challenge 2022 for young Africans
Application Deadline: November 1, 2022.