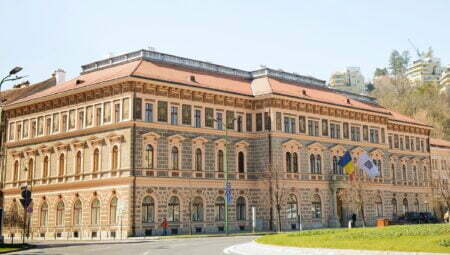 Transilvania Academica Scholarship 2023 at Transilvania University
Transilvania University, Romania has opened its doors to international students seeking an exceptional educational experience with the launch of the Transilvania Academica Scholarship 2023. This scholarship is open to highly qualified individuals from around the world who are interested in pursuing degrees at the university for the 2022/2024 academic session.
The Transilvania Academica Scholarship 2023 presents an exceptional opportunity for outstanding candidates from non-EU or non-EEA nations to avail themselves of a fully-funded scholarship for their Bachelor's, Master's, or PhD degrees at Transilvania University in Romania. The scholarship covers tuition, housing, and a monthly stipend, providing an excellent support system for recipients to focus on their studies without financial burden. This scholarship is a highly competitive program for international students who wish to pursue a degree at the university, but it also comes with the expectation that successful applicants attend each academic year and passes their courses with flying colors. Transilvania University is committed to supporting academic excellence and creating a diverse community of students, making this scholarship an exciting opportunity for deserving candidates to gain a world-class education in Romania.
The primary objective of this scholarship is to attract talented international students to Transilvania and create a network of global ambassadors that will enhance the university's global recognition. Through this scholarship, the university hopes to promote academic excellence, diversity, and cultural exchange among students from different backgrounds, while also providing them with an opportunity to gain invaluable skills and knowledge that will prepare them for successful careers in their respective fields.
SEE ALSO: Weidenfeld-Hoffmann Scholarships 2023 at University of Oxford
Transilvania University of Brașov is a public university located in Brașov, Romania. It was founded in 1948 as the School of Mechanics and is now one of the largest and most prestigious universities in the region. Over the years, the university has expanded its curriculum to include a wide range of fields, including engineering, economics, law, medicine, and more. Today, it has over 30,000 students and is a hub for research and innovation in Romania. The university is known for its commitment to excellence in education, its world-class research facilities, and its strong ties to the local community.
Scholarship Summary:
Scholarship Sponsor(s): The Transilvania Academica Scholarship
Host Institution(s): Transilvania University, Romania
Scholarship Worth:
Tuition fees (including registration and graduation fees)
Free accommodation in the university's dormitories (including holidays)
A monthly allowance of 800 lei (approx. 170 USD, including holidays)
Number of Awards: Several
Study Level: Bachelor's, Master's & PhD
Nationality: International Students
Requirements and eligibility criteria for Transilvania Academica Scholarship 2023 at Transilvania University:
Applicants must be international students from non-EU or non-EEA countries.
Applicants must be in full attendance of bachelor's, master's, or Ph.D. degree studies.
Applicants must be in full passing each academic year.
Applicants must have proof of English Language proficiency.
Applicants must have to fill in the online application form as described in the Application File.
SEE ALSO: NileWell Scientist-Journalist Co-Production Fellowship Program 2023
Application Procedure for Transilvania Academica Scholarship 2023 at Transilvania University (How to apply);
An interested applicant who wants to apply for Transilvania Academica Scholarship 2023 at Transilvania University must ensure the application file includes the following documents (in .pdf format) to be uploaded to the online application form:
Curriculum vitae, highlighting the candidate's outstanding achievements
Motivation letter (maximum one page)
Three letters of recommendation to support the candidate's outstanding results.
Application Deadline: 28th April 2023.
For more information visit the official website