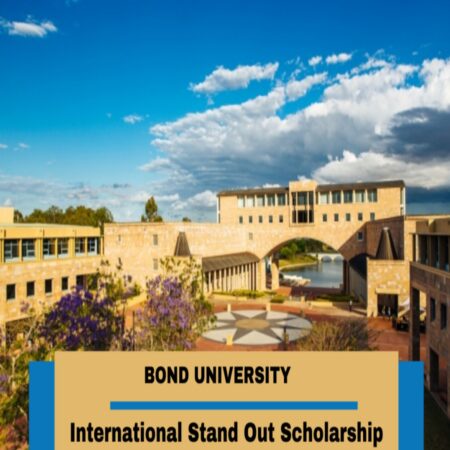 International Stand Out Scholarship 2024 at Bond University in Australia
Bond University in Australia is inviting applications from international students who aspire to study in Australia for the Stand Out Scholarship 2023/2024. These scholarships are open for both undergraduate and postgraduate studies at Bond University.
The University awards International Stand Out Scholarships based on academic excellence, showcasing the university's dedication to attracting outstanding international undergraduate and postgraduate students. This scholarship opportunity spans various fields of study at the university.
Bond University is Australia's first private, not-for-profit university, established in 1987. It officially opened in 1989 and quickly gained accreditation from the Australian government, becoming recognized as a respected institution. The university has continually expanded its academic programs, emphasizing research, internationalization, and student-centered learning. Today, Bond University is renowned for its academic excellence and innovative approach to education.
SEE ALSO: MultiChoice Bursary Scheme 2023 for South African Students
Scholarship Summary:
Scholarship Sponsor(s): Bond University, Australia
Host Institution(s): Bond University, Australia
Scholarship Worth: Not specified
Number of Awards: Several
Study Level: Undergraduate and Postgraduate
Nationality: International Students
Requirements and eligibility criteria for International Stand Out Scholarship 2024 at Bond University in Australia:
Submit the Online Application Form for their chosen program.
Note that the following programs are not eligible for scholarships: Master of Psychology (Clinical), Master of Professional Psychology, Study Abroad and Exchange Programs, Bond Medical Program, and Doctor of Physiotherapy.
For undergraduate applicants, achieve a minimum academic result of ATAR 89.00 or IB Diploma 32 (or equivalent). Postgraduate applicants must demonstrate 'stand out' academic results from their undergraduate studies.
Be a citizen of one of the countries listed on the university's website or an international student residing in Australia (regardless of nationality).
Complete and submit the scholarship application form by the relevant scholarship application closing date for the chosen starting semester.
Not have already commenced undergraduate or postgraduate studies at Bond University.
Students studying English at Bond University College as part of a packaged Offer are still eligible to apply.
SEE ALSO: Ireland Fellows Programme-Courtney Fellowship Award 2024
Application Procedure for International Stand Out Scholarship 2024 at Bond University in Australia (How to apply);
Interested applicant who wants to apply for International Stand Out Scholarship 2024 at Bond University in Australia, must follow these steps:
Submit an online application form for their desired program at Bond University.
Once the program application is submitted, students can access the Bond University Scholarship Application Form using the same login details. On the "Start an Application" page, search for 'Scholarship.'
Complete the scholarship application form and submit it online before the application closing date relevant to the starting semester.
As part of the scholarship application, students will need to attach a Supporting Statement. They can download the Supporting Statement Template (PDF), complete it, and save it. Then, attach the completed form to their application in the Supporting Documents section.
Application Deadline: Not specific
For more information visit the official website