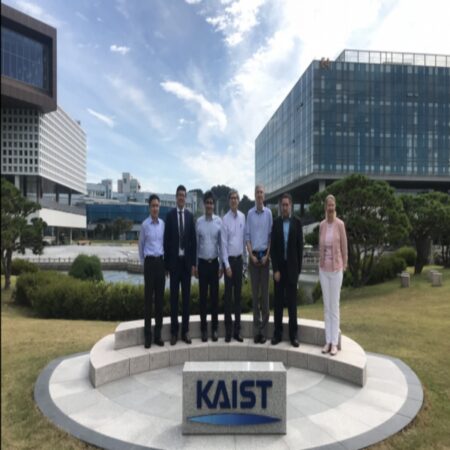 International Students Scholarship 2023 at KAIST
KAIST (Korea Advanced Institute of Science & Technology) is now accepting applications for the International Undergraduate Scholarship for the upcoming 2023/2024 academic session. This scholarship opportunity is open to interested and eligible candidates who wish to pursue their undergraduate studies at KAIST.
KAIST is offering a prestigious Undergraduate Scholarship that provides exceptional benefits to successful students. The scholarship includes a full tuition fee exemption for 8 semesters, a monthly living allowance of 500,000 KRW, and medical health insurance coverage. KAIST is seeking students who align with their goal of nurturing scientific talents who can make valuable contributions to the nation and society. It is important to note that an interview is not required for all applicants. If an interview is necessary, applicants will be contacted individually via email.
KAIST, the Korea Advanced Institute of Science & Technology, was established in 1971 as South Korea's first research-oriented science and engineering institution. Over the years, it has become a leading technological university with a global reputation for academic excellence and innovative research. KAIST is known for its multidisciplinary approach, fostering scientific talent, and driving technological advancements. The university has made significant contributions across various fields and maintains collaborations with renowned institutions worldwide. Today, KAIST continues to prioritize education, research, and societal impact, positioning itself as a premier institution for scientific and technological excellence.
SEE ALSO: Flemish Government Master Mind Scholarships 2023
Scholarship Summary:
Scholarship Sponsor(s): KAIST, South Korea
Host Institution(s): Korea Advanced Institute of Science & Technology (KAIST), South Korea
Scholarship Worth: Full tuition fee, Living expenses
Number of Awards: Several
Study Level: Undergraduate
Nationality: International Students
Requirements and eligibility criteria for International Students Scholarship 2023 at KAIST:
Maintain a GPA of over 2.7 out of 4.3 at KAIST after their freshman year.
Possess a strong inclination towards science and technology research, showcasing curiosity in this field.
Demonstrate a passion and willingness to explore new realms of innovation and creation.
Display a desire to serve society and the country, exhibiting a high level of awareness and a collaborative attitude.
Exhibit deep consideration for moral values and the environment, with a focus on the well-being of all humanity.
Have graduated or will graduate from high school by February 28th, 2023.
Submit the completed application and all required documents by 5:00 p.m. (KST) on the application deadline.
It is important to carefully review and fulfill these criteria when applying for International Student Admission at KAIST.
SEE ALSO: TransparencIT Civic Changemakers Fellowship Programme 2023
Application Procedure for International Students Scholarship 2023 at KAIST(How to apply);
Interested applicant who wants to apply for International Students Scholarship 2023 at KAIST, should know that applying for the KAIST Scholarship is seamlessly integrated into the admission process. There is no need for a separate application. Once you are granted admission, you will automatically be considered for the scholarship. Simply indicate your interest in the "KAIST scholarship" by checking the corresponding box in the Statement of Financial Resources section of the online application for admission. This ensures that you will be considered for the scholarship opportunity.
Application Deadline: Not specific
For more information visit the official website