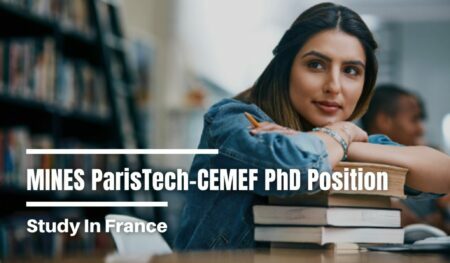 MINES ParisTech-CEMEF Research Fellowships in France 2023
CEMEF, an esteemed research institute associated with MINES ParisTech, is currently providing exciting research fellowships in France. These opportunities are available for both doctoral and post-doctoral candidates, encompassing a wide range of thematic research domains. The recruitment process remains open throughout the year, depending on the specific projects needed.
When you choose to pursue your doctorate or post-doctorate at CEMEF, you become a valuable member of one of their research teams. Eligible applicants are required to hold a doctoral degree. Typically, the projects offered have a duration of one year. This means actively participating in the team's activities and benefiting from a supportive research environment. Moreover, you'll have the freedom to independently manage and conduct research related to your chosen subject. CEMEF ensures that you have access to all the necessary computer and material resources to successfully carry out your project.
CEMEF, established in 1969, is a prominent research center affiliated with MINES ParisTech. It specializes in material-forming processes and is located in Sophia Antipolis, France. CEMEF conducts research in various disciplines and collaborates closely with industry partners. The center focuses on developing innovative techniques and technologies for metal forming, polymer processing, and composite materials. CEMEF has a strong history of bridging the gap between academia and industry, contributing to practical applications in sectors like automotive, aerospace, energy, and manufacturing. It offers doctoral and post-doctoral programs, providing valuable training opportunities for students and researchers. CEMEF continues to be a leading institution shaping the future of manufacturing processes.
SEE ALSO: Ursinus Gateway International Scholarship 2023 at Ursinus College in the USA
Fellowships Summary:
Fellowships Sponsor(s): MINES ParisTech-CEMEF, France
Fellowships Location: France
Fellowships Worth: Gross annual salary of approximately €36,000
Study Level: Doctoral & Post-doctoral
Nationality: International Students from African Countries
Requirements and eligibility criteria for MINES ParisTech-CEMEF Research Fellowships in France 2023:
International students
Enrolled in a Ph.D. research program offered by the University
Full-time enrollment in the Honours program during the fellowship semester
Possess a bachelor's degree or equivalent in the relevant field
Hold a master's degree or equivalent in the appropriate field
Proficient in written and oral English communication
Display independent thinking and analytical aptitude for innovative scientific or technical solutions
Demonstrate the ability to work effectively both independently and as part of a team
Exhibit enthusiasm, motivation, flexibility, and confidence
Highly motivated, responsible, and capable of structured independent work
Possess good interpersonal and communication skills
Must have an offer for a full-time program at MINES ParisTech-CEMEF, France Fulfill CEMEF's minimum English language proficiency requirements.
SEE ALSO: Angus Nicholson Honours Scholarship 2023 at Australian National University
Application Procedure for MINES ParisTech-CEMEF Research Fellowships in France 2023 (How to apply);
Interested applicant who wants to apply for MINES ParisTech-CEMEF Research Fellowships in France 2023, should know that recruitment remains open throughout the year, subject to project availability. To apply, complete and submit the online application form. Eligible candidates for these positions are those who hold a doctoral degree. Typically, the duration of the proposed projects is one year.
Application Deadline: Ongoing
For more information visit the official website