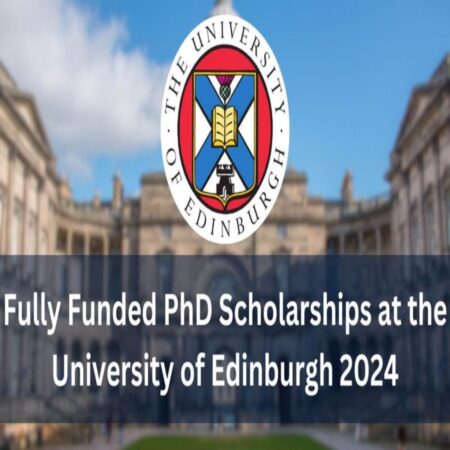 PhD Scholarships 2024 at University of Edinburgh
Dreaming of pursuing a PhD at the University of Edinburgh in the UK? Here's your chance! Apply for one of the many Fully Funded PhD Research Projects starting in 2024 at the University of Edinburgh. Don't miss out on this exciting opportunity!
International PhD candidates, here's your chance! Grab the opportunity for a fully funded research project. These projects are often supported by research councils based on specific needs. Keep in mind that the availability of funded research projects varies across different subject areas. Check it out and make the most of this opportunity!
The University of Edinburgh, established in 1582, is one of Scotland's ancient universities. Throughout its history, it has been a beacon of academic excellence, playing a key role in the Scottish Enlightenment and making significant contributions to medicine. With a notable list of alumni, the university has evolved, expanded its academic offerings, and gained a global reputation for cutting-edge research. Today, the University of Edinburgh remains a prestigious institution, known for its commitment to scholarship and innovation across various disciplines.
SEE ALSO: ETH Zurich Excellence Masters Scholarships 2024
Scholarship Summary:
Scholarship Sponsor(s): University of Edinburgh, UK
Host Institution(s): University of Edinburgh, UK
Scholarship Worth: Partial to Full Cost of the Research Program
Number of Awards: Several
Study Level: PhD
Nationality: International students
Requirements and eligibility criteria for PhD Scholarships 2024 at University of Edinburgh:
Funded projects often have early academic year deadlines.
Plan to apply before January of the year preceding your intended start date.
Look for projects on FindaPhD.com.
Check school and research center/institute websites for additional listings.
Verify the funding status and eligibility criteria of the project you're interested in.
Explore alternative funding options if the project doesn't have attached funding.
Some projects may require a research proposal as part of your application.
Confirm application requirements for each project.
Apply for PhD projects through the University of Edinburgh's degree finder.
Check for any exceptions and inquire with the project's lead contact if needed.
Scholarships typically focus on medical, scientific, and technical disciplines.
Projects are chosen in areas where the cost of research is relatively high.
Projects are structured and contribute to broader research areas.
The aim is to contribute to wider research efforts in the selected disciplines.
While the main focus is on specific fields, it's advisable to check for funded projects in arts, humanities, and social sciences as well.
SEE ALSO: US Embassy MEPI Student Leaders Program 2024
Application Procedure for PhD Scholarships 2024 at University of Edinburgh (How to apply):
To apply, first enroll in an eligible PhD program. After that, apply for funding through the University's admissions portal, known as EUCLID.
Application Deadline: Varies
For more information visit the official website