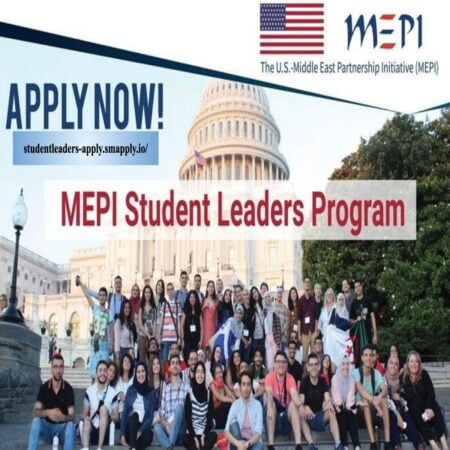 US Embassy MEPI Student Leaders Program 2024
If you're a student from the MENA region pursuing your undergraduate or graduate studies and dreaming of an educational adventure in the USA, seize this fantastic opportunity! Apply now for the US Embassy MEPI Student Leaders Program 2024.
The Student Leaders Program (SLP) spans a whole year, allowing undergraduate students to connect with their American counterparts, take part in community activities, and engage with civil society organizations.
SEE ALSO: Embassy of France Scholarships for Nigerians 2024-25
Scholarship Summary:
Scholarship Sponsor(s): U.S. Department of State's Middle East Partnership Initiative (MEPI)
Host Institution(s): U.S. institutions
Scholarship Worth: Varies
Number of Awards: Several
Study Level: Undergraduate and Graduate
Nationality: MENA countries
Requirements and eligibility criteria for US Embassy MEPI Student Leaders Program 2024:
Citizenship: Students from Algeria, Bahrain, Egypt, Israel, Iraq, Jordan, Kuwait, Lebanon, Libya, Morocco, Qatar, Syria, Tunisia, West Bank and Gaza, and Yemen.
Residency: Applicants must reside in their home countries, except for Syrian and Yemeni applicants.
Third-country National: Applicants cannot be a third-country national of the nominating country, except for Syrian and Yemeni applicants.
Commitment: Must be committed to returning to or remaining in their home country/community after program completion.
Education: Currently attending an undergraduate or graduate university program in their home countries or recently graduated within 6 months.
Academic Achievement: Demonstrated high level of academic achievement.
Leadership and Civic Engagement: Demonstrated commitment to leadership and civic engagement in their communities.
Climate Change Focus: Strong commitment to addressing climate change and environmental issues, with a requirement for a Climate Change/Environmental Protection Civic Engagement Project (CEP).
English Proficiency: High proficiency in English to participate in U.S. university academic classes.
Program Participation: Ability to fully participate in the Student Leaders Program, including the intensive summer program tentatively scheduled from late June 2024 to the end of July 2024.
SEE ALSO: The Harry Frank Guggenheim Emerging Scholar Awards 2024
Application Procedure for US Embassy MEPI Student Leaders Program 2024 (How to apply);
If you're interested in the US Embassy MEPI Student Leaders Program, make sure to complete the online application before the deadline. Be sure to provide accurate information and include all necessary documents while filling out the application form.
Application Deadline: December 18, 2023 at 23:59 GMT.
For more information visit the official website