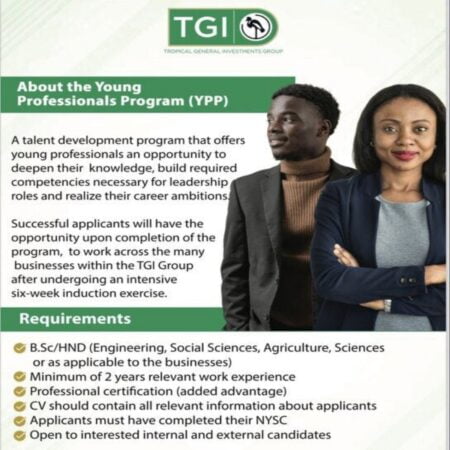 TGI Young Professionals Program 2023/24 for Young Graduates
Tropical General Investments (TGI) wants to hear from young and talented individuals interested in their Young Professionals Program 2023/24. This program is all about nurturing talent and helping young professionals achieve their career goals, plus some extra perks.
TGI Group is a global investment and holding company. They have investments in various sectors across Africa, the Middle East, Asia, and emerging markets worldwide.
The YPP is a key part of our talent development plan. It gives experienced individuals a chance to expand their expertise and develop the skills needed for future management and leadership positions. This program involves moving across different functions and businesses, gaining hands-on experience, and working on projects. It's a 6-month program focused on practical learning.
SEE ALSO: Tomorrow's Leaders Graduate Students Program (TLG) 2023/24
Job Summary:
Job Sponsor(s): TGI
Job Location: Lagos, Nigeria
Job Duration: 6 Months
Number of Awards: Several
Study Level: B.Sc/HND
Nationality: Countries in Africa
Requirements and eligibility criteria for TGI Young Professionals Program 2023/24 for Young Graduates:
Be a graduate.
Hold a B.Sc or HND degree in fields like Engineering, Social Sciences, Agriculture, Sciences, or relevant to the business.
Possess at least 2 years of related work experience.
Having a professional certification is a bonus.
Make sure your CV includes all the necessary information.
Have completed the NYSC (National Youth Service Corps) program.
This opportunity is open to both internal and external candidates.
SEE ALSO: APN Collaborative Working Group Research Fellowship 2024/25
Application Procedure for TGI Young Professionals Program 2023/24 for Young Graduates(How to apply);
If you're interested in the TGI Young Professionals Program, apply online through the official program webpage by clicking the "apply" button. After completing the program, successful applicants can look forward to working in various TGI Group businesses. They'll start with a six-week intensive induction to get them ready.
Application Deadline: November 19, 2023
For more information visit the official website