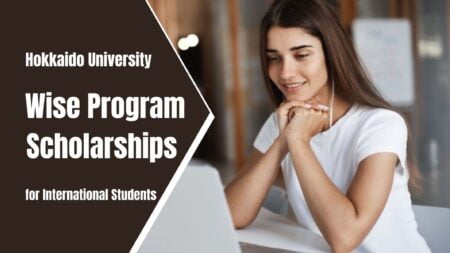 WISE Scholarship Program 2023 at Hokkaido University Japan
Exciting news for international students! Hokkaido University's School/Faculty of Veterinary Medicine is currently accepting applications for the WISE Program Scholarship. This prestigious scholarship opportunity is open to qualified students who are interested in pursuing studies in Veterinary Medicine/Infectious Disease.
The Hokkaido University WISE Scholarship Program offers exciting opportunities for PhD students interested in life sciences and veterinary medicine. Through this program, successful applicants will gain valuable research experience, enhance their problem-solving skills, and develop the ability to engage in international activities related to life phenomena and drug development.
As part of the scholarship, selected students will enjoy the following benefits:
Waived enrollment and examination fees.
Exemption from tuition fees.
A monthly stipend allowance of 145,000 YEN.
This comprehensive scholarship package not only supports students financially but also encourages their academic and personal growth during their time at
Hokkaido University. It's an excellent opportunity for aspiring researchers and professionals in the field of life sciences.
SEE ALSO: Deloitte Actuarial and Insurance Solutions (AIS) Graduate Programme 2023
Hokkaido University, located in Sapporo, Japan, has a rich history dating back to its establishment in 1876 as the Sapporo Agricultural College. It was the first higher education institution in Hokkaido, Japan's northernmost island. Over the years, the university expanded its academic disciplines and evolved into a comprehensive university, offering programs in various fields. In 1918, it was renamed Hokkaido Imperial University and became one of the seven imperial universities in Japan. The university played a significant role in promoting research and education in Hokkaido, contributing to the development of the region and the country as a whole. Today, Hokkaido University stands as a prestigious institution known for its research achievements, global collaborations, and commitment to fostering talented individuals who contribute to society. It remains a leading university in Japan and attracts students and researchers from around the world, creating a vibrant and diverse academic community.
Scholarship Summary:
Scholarship Sponsor(s): Hokkaido University, Japan
Host Institution(s): Hokkaido University, Japan
Scholarship Worth: Tuition fee and a stipend of 145,000 YEN
Number of Awards: Several
Study Level: PhD
Nationality: International students
Requirements and eligibility criteria for WISE Scholarship Program 2023 at Hokkaido University Japan:
Applicants must be international students.
An understanding of standards of conduct that are based on the logic and ethics needed for veterinarians in their duties
Proficient knowledge and skills in the prevention, diagnosis, and treatment of animal diseases, as well as in the maintenance and improvement of animal health and public health.
The international perspectives, expertise, and specialized skills necessary to contribute to the solving of global issues such as food supply stability, the hygienic management of livestock animals, the safety of livestock products, and the control of zoonoses.
Through research experience in leading-edge life sciences, problem-solving abilities based on veterinary medicine, and the ability to conduct international activities for new discoveries related to life phenomena and drug development.
SEE ALSO: LSETF/UNDP Vocational Training Program 2023
Application Procedure for WISE Scholarship Program 2023 at Hokkaido University Japan (How to apply);
Interested applicant who wants to apply for WISE Scholarship Program 2023 at Hokkaido University Japan, must follow these steps and Enroll and be accepted into the desired graduate program.
Review the guidelines and instructions provided for the application process.
Prepare the following documents:
Curriculum vitae (CV)
Documents for applicant qualification screening
Research plan
Career plan after graduation from the Graduate School
An evaluation report from your expected supervisor
Report on scientific and academic activities
Two letters of recommendation addressed to the President of Hokkaido University
Short essay of approximately 1,200 words
Proof of English proficiency
Medical certificate
Submit all the required documents via email to ohf@vetmed.hokudai.ac.jp.
Make sure to follow the provided guidelines and instructions carefully.
Application Deadline: Not specific
For more information visit the official website