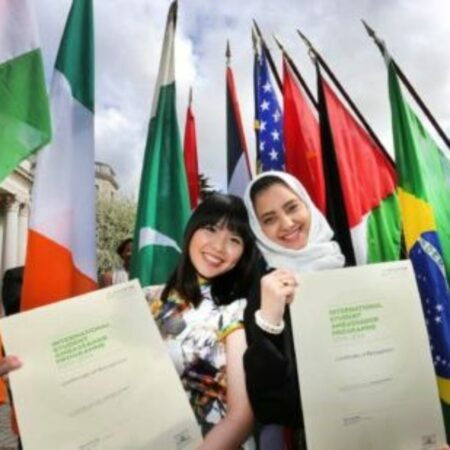 Government of Ireland International Education Scholarships 2023
The Ireland high school board are willing to accept interested and eligible candidates who wish to further their academic study in Ireland to take a chance on their ongoing 2023 2024 Government international education scholarship program.
The scholarship scheme is strictly for students pursing their masters degree program as well as those for the PhD level. The programme is a fully funded one as there is no tuition fee payment required from successful applicants. The program will house other benefits which is valued up to €10,000 yearly as well as stipends and living allowances. This scheme offers a wide range of academic disciplines for their prospective students who are willing to take this opportunity.
The offer is open to students from non-EU/EEA countries and is applicable to all fields of study who have an offer of a place at an eligible Irish higher education institution.
SEE ALSO: Sisters Angèle-Marie Littlejohn and Bibiane Leclercq Scholarships 2023 for African Students in Ireland
Scholarship summary:
Scholarship Sponsor(s): Government of Ireland
Scholarship Type: Fully Funded
Host Institution(s): Irish Universities
Scholarship Worth: See Scholarship benefits (below)
Number of Awards: Several
Study Level: Postgraduate (Masters and PhD)
Nationality: Non-EU/EEA countries
Requirements and Eligibility Criteria for the Government of Ireland International Education Scholarships 2023:
Interested applicants must have a record of outstanding academic achievement.
Interested applicants must possess good communication skills.
Interested applicants must be able to Participate in extra curriculum activities. For example: humanitarian work; politics either local, national or international; arts; sports.
Interested applicants must have a strong reason for pursuing their study in Ireland that indicates how a GOI-IES aligns with their longer-term goals.
Scholarship Benefits:
A €10,000 stipend for one year's study
A full fee waiver of all tuition and other registration costs at the higher education institution.
SEE ALSO: University of California 2023 MasterCard African Scholarships in Berkeley
Application Procedures for the 2023 Government of Ireland International Education Scholarships (How to Apply):
Interested applicants who meet the above requirements and eligibility criteria for this scholarship opportunity should submit their application using the online application portal on or before the application deadline.
Application Deadline: 24th March 2023
For more information about this opportunity, Visit the Official Website.