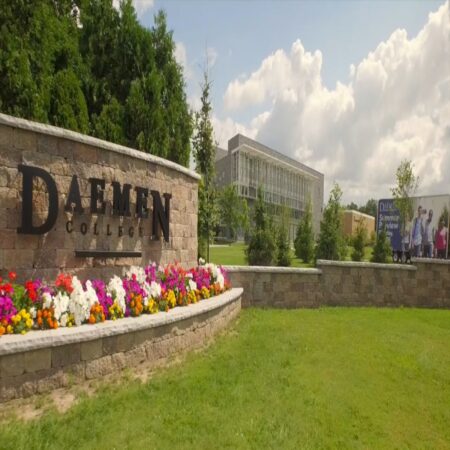 Merit Scholarships 2024/2025 at Daemen College in USA
Daemen College in the USA is offering the President Scholarship to international students. This merit-based scholarship is open to undergraduate and graduate students enrolling in full-time (and some part-time) study programs at the university.
The President's Scholarship is given yearly to new or transfer students based on their academic achievements. For first-year students, it can be up to $12,500, and for transfer students, it can be up to $9,000. Many of these scholarships can be renewed as long as the students maintain a 3.0 QPA (Quality Point Average) and remain full-time undergraduates
Daemen College, located in Amherst, New York, was founded as Rosary Hill College in 1947 by the Sisters of St. Francis. It was initially a Catholic women's college but became coeducational in 1971, changing its name to Daemen College. Over the years, it expanded its academic programs, embraced diversity, and earned recognition for academic excellence. The college is committed to community engagement and has evolved into a diverse institution with a strong presence in higher education.
SEE ALSO: Yenching Academy Scholarship 2024 at Peking University in China
Scholarship Summary:
Scholarship Sponsor(s): Daemen College, USA
Host Institution(s): Daemen College, USA
Scholarship Worth: Tuition award
Number of Awards: Several
Study Level: Undergraduate and graduate students
Nationality: International students
Requirements and eligibility criteria for Merit Scholarships 2024/2025 at Daemen College in USA:
Applicant designation as domestic or international students
Enrollment or enrollment plans for undergraduate and graduate degree programs at the university
First-year study status for some scholarships (not applicable to all)
High school certificate or equivalent required for admission
English language proficiency evidence meeting Daemen College's minimum requirements (waiver may be accepted)
SEE ALSO: Aspire Coronation Trust (ACT) Foundation 2024 Grant Cycle
Application Procedure for Merit Scholarships 2024/2025 at Daemen College in USA (How to apply);
To apply for these awards, eligible candidates should enroll in an undergraduate or graduate program at Daemen College, USA. Once enrolled, applicants can then complete the application form for this educational award.
Application Deadline: Not Specified
For more information visit the official website