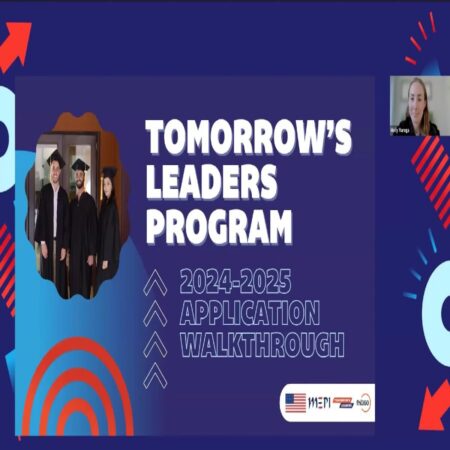 Tomorrow Leaders Graduate Students Program 2024
The Tomorrow's Leaders Graduate (TLG) program is a partnership between the US Department of State and the American University in Cairo (AUC). It provides fully funded opportunities for students to pursue a master's degree.
The American University in Cairo, Egypt, invites applicants for the Tomorrow's Leaders Graduate Students Program (TLG) 2024. This initiative is tailored to equip deserving Masters students with the knowledge and capabilities to lead positive change and have a significant impact on society.
Certainly! The American University in Cairo (AUC) is an independent institution in Egypt that was established in 1919 by American Presbyterian missionaries. AUC has played a vital role in Egypt's educational landscape and is known for promoting cultural exchange. The university has experienced significant growth, with a move to a new, modern campus in New Cairo in 2008. AUC's Center for American Studies and Research (CASAR) fosters scholarship in American Studies and strengthens cultural ties between Egypt and the United States. AUC has a rich history of producing leaders, scholars, and professionals, and it continues to offer a wide range of academic programs while emphasizing international dialogue and understanding.
SEE ALSO: African Union Internship Program 2023/24 for African Students
Scholarship Summary:
Scholarship Sponsor(s): US Department of State and Partners
Host Institution(s): American University in Cairo
Scholarship Worth:
Full tuition fees for the fall and spring semesters.
Medical insurance.
A monthly stipend.
Student Housing.
Laptop.
Internship/practicum opportunity, including local transportation costs if needed.
Opportunity to attend one conference to present research findings, applied to and awarded competitively, as per the guidelines for Graduate Student Support Grants.
Two annual round-trip economy air tickets from home to campus; or housing and living stipend to continue approved program activities on campus during breaks for students unable to return home because of circumstances outside of their control.
Number of Awards: Several
Study Level: Masters
Nationality: International Students
Requirements and eligibility criteria for Tomorrow's Leaders Graduate Students Program 2024 :
Nationality from Algeria, Egypt, Iraq, Jordan, Lebanon, Morocco, Libya, Tunisia, Yemen, Syria, Bahrain, the West Bank, and Gaza.
Meet AUC graduate admission requirements.
Strong academic potential with a minimum bachelor's degree GPA of 3.0 on a 4.0 scale or equivalent.
Proficiency in written and spoken English.
Demonstrated maturity, flexibility, and leadership potential through extracurricular activities, recommendations, and interviews.
Show financial need.
Commit to pursuing graduate thesis research in one of the eligible research projects.
SEE ALSO: Funza Lushaka Bursary Scheme for South Africans 2024
Application Procedure for Tomorrow's Leaders Graduate Students Program 2024 (How to apply);
To apply for the Tomorrow's Leaders Graduate Students Program 2024, you need to complete two applications:
Application Deadline: November 30, 2023.
For more information visit the official website