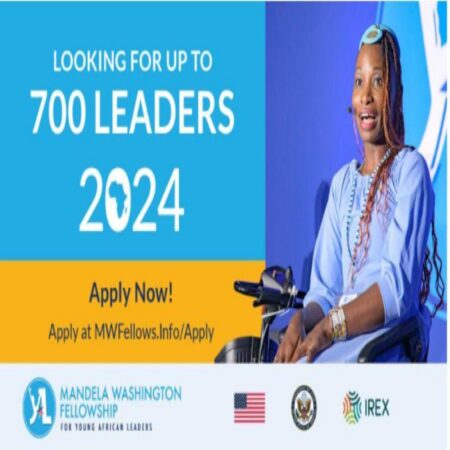 YALI Mandela Washington Fellowship 2024 in USA
The YALI Mandela Washington Fellowship 2024 invites capable young African leaders to apply for a fully funded program in the USA. This initiative offers a unique chance for participants to attend a summit with fellow young African leaders and interact with leaders from the U.S. Government, civic groups, and businesses.
During the summer of 2024, the YALI Mandela Washington Fellowship plans to welcome approximately 700 young leaders to the USA. This intensive program is designed to boost skills and equip Fellows with the necessary tools to lead effectively in their respective fields and communities.
The Fellowship provides an opportunity for successful participants to join a six-week leadership institute at a U.S. college or university. This is a chance to share experiences with U.S. citizens and fellow participants, learn from them, and explore new industries that expand your skills beyond your usual focus.
SEE ALSO: ECOWAS Immersion Program for Young Africans 2024
Fellowship Summary:
Fellowship Sponsor(s): U.S. Government
Host Institution(s): YALI Mandela Washington Fellowship
Fellowship Worth: Not specified
Fellowship Duration: 6 Weeks
Study Level: All study levels
Nationality: Africans
Requirements and eligibility criteria for YALI Mandela Washington Fellowship 2024 in USA:
Age between 25 and 35 (21-24 considered exceptionally).
Not a U.S. citizen or permanent resident.
Eligible for a U.S. J-1 visa.
Not employed by or an immediate family member of U.S. Government.
Proficient in English.
Citizens and residents of specified African countries.
Not alumni of the Mandela Washington Fellowship.
Proven leadership and accomplishments in business, entrepreneurship, civic engagement, or public service.
Commitment to community service, volunteerism, or mentorship.
Ability to collaborate in diverse groups and respect different viewpoints.
Strong communication skills and positive attitude.
Energetic and flexible approach.
Expertise in the chosen sector/Fellowship track and clear goals for applying lessons to future work.
Commitment to return to Sub-Saharan Africa and contribute to community development.
Applicants must be citizens of one of the following countries: Angola, Benin, Botswana, Burkina Faso, Burundi, Cameroon, Cabo Verde, Central African Republic, Chad, Comoros, Republic of the Congo, Democratic Republic of the Congo (DRC), Cote d'Ivoire, Djibouti, Equatorial Guinea, Eritrea, Eswatini, Ethiopia, Gabon, The Gambia, Ghana, Guinea, Guinea-Bissau, Kenya, Lesotho, Liberia, Madagascar, Malawi, Mali, Mauritania, Mauritius, Mozambique, Namibia, Niger, Nigeria, Rwanda, Sao Tome and Principe, Senegal, Seychelles, Sierra Leone, Somalia, South Africa, South Sudan, Sudan, Tanzania, Togo, Uganda, Zambia, or Zimbabwe.
SEE ALSO: Old Mutual Graduate Programme for Africans 2023
Application Procedure for YALI Mandela Washington Fellowship 2024 in USA (How to apply);
If you're interested in the YALI Fellowship 2024, complete the online application and submit all required documents before the deadline.
Application Deadline: September 12, 2023.
For more information visit the official website