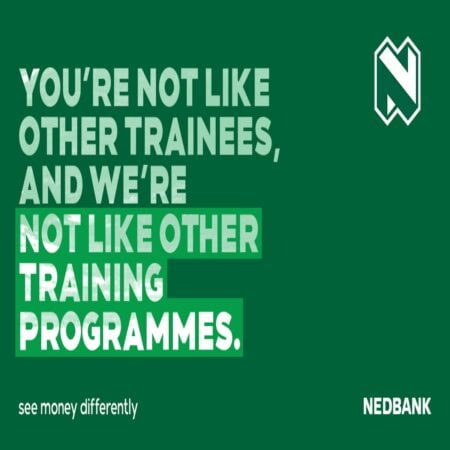 Nedbank Quants Graduate Programme 2023
Attention talented and driven young graduates! Here's your chance to apply for the Nedbank Quants Graduate Programme 2023. We invite you to be part of an enriching environment that nurtures your success by providing you with valuable support, coaching, and mentorship opportunities. Don't miss this incredible opportunity to kickstart your career and unleash your potential with Nedbank. Apply now and embark on a journey of growth and achievement.
Get ready for an extraordinary opportunity with the Nedbank Quants Graduate Programme. This program offers a unique experience in quantitative and capital risk management, providing you with exposure to various business areas through bank-wide rotations over a two-year period. During this exciting journey, you'll delve into a wide range of quantitative risk management techniques. From model development and validation to scorecard calibration and stress testing, you'll gain comprehensive insights into the inner workings of the industry. This immersive experience will equip you with invaluable skills and knowledge, setting you apart as a smart and strategic thinker in the field.
Nedbank, established in 1888, is one of South Africa's leading financial institutions. It has a rich history of over a century, rooted in the country's economic development. Originally known as the Nederlandsche Bank en Credietvereeniging voor Zuid-Afrika, the bank played a vital role in financing the diamond and gold mining industries during South Africa's early years. Over time, it grew and expanded its services, adapting to the changing needs of its customers and the evolving financial landscape. Today, Nedbank stands as a trusted and innovative bank, committed to sustainable banking practices and driving positive change in the communities it serves. With a focus on delivering exceptional service and fostering economic growth, Nedbank continues to be a key player in South Africa's financial sector.
SEE ALSO: International UG scholarship 2023 at University of Nottingham in China
Job Summary:
Job Sponsor(s): Nedbank, South Africa
Job Location: Ogun State, Nigeria
Job Duration: 2 Years
Number of Awards: Several
Study Level: Students & Recent Graduates
Nationality: All nationalities
Requirements and eligibility criteria for Nedbank Quants Graduate Programme 2023:
Applicants must be graduates
Have an interest in quantitative risk management within the financial services sector; and
Currently be registered for a postgraduate qualification in applied or pure mathematics, statistics, econometrics, engineering, financial engineering, or quantitative risk management. Other qualifications with a strong quantitative element will also be considered.
Be able to communicate effectively
SEE ALSO: Tuition-fee Scholarships 2023 at National College of Ireland
Application Procedure for Nedbank Quants Graduate Programme 2023 (How to apply);
Interested applicant who wants to apply for Nedbank Quants Graduate Programme 2023, should submit Applications that are now open for our 2024 intake, so don't hesitate to click the link and begin your journey. Use your unique talents to #BeTheDifference and contribute to a brighter future. This is your opportunity to make an impact and shape the financial landscape. Apply now and let your potential shine with the Nedbank Quants Graduate Programme.
Application Deadline: 20th June 2023.
For more information visit the official website